We are experts in new mobility design, including scooters, ebikes, urban city bikes, small vehicles, cargo bikes and mobility scooters.
If you are looking to develop a new mobility solution, an innovative bicycle, wheelchairs or mobility scooters, we have specialized experience in those fields and are happy to help.
As a design studio we can handle your complete mobililty design or ebike development project, from strategy, design, prototyping up to implementation and manufacturing support.
Our good contacts with many suppliers in the bike industry help us to select and test the right components and drivetrain solutions, both for e-bikes and non electric bikes.
In our mobility product development, we use sound design and simulation techniques to arrive at the best solutions for suspension, folding kinematics and state of the art geometry.
We design, build and test mobility product prototypes on usage, performance and durability.
We ourselves are riders and cyclists, riding a lot through the Amsterdam traffic on city bikes and cargo e-bikes. We know what works and what does not work.
We help your team with building a visionary mobility design strategy and creating breakthrough solutions. After that we refine the proof of concepts with award winning mobility design and robust product development.
The Instinctiv M-series is a range of high-end mountain bikes. Combining confidence inspiring geometry, great design and a patented suspension platform in an engaging package using 8% recycled automotive carbon in the process.
The bikes come both in a 27.5 inch and 29 inch version and are equipped with high-end German made Pinion gearbox drivetrains.
We have been involved from the very beginning of the project, with the development of the kinematics and the suspension platform. Both design and detailed engineering of the carbon frame was done by our design team, up to manufacturing support and test riding.
In the course of the project we developed several drivetrain components as well, like a new chain tensioner and trigger shifter.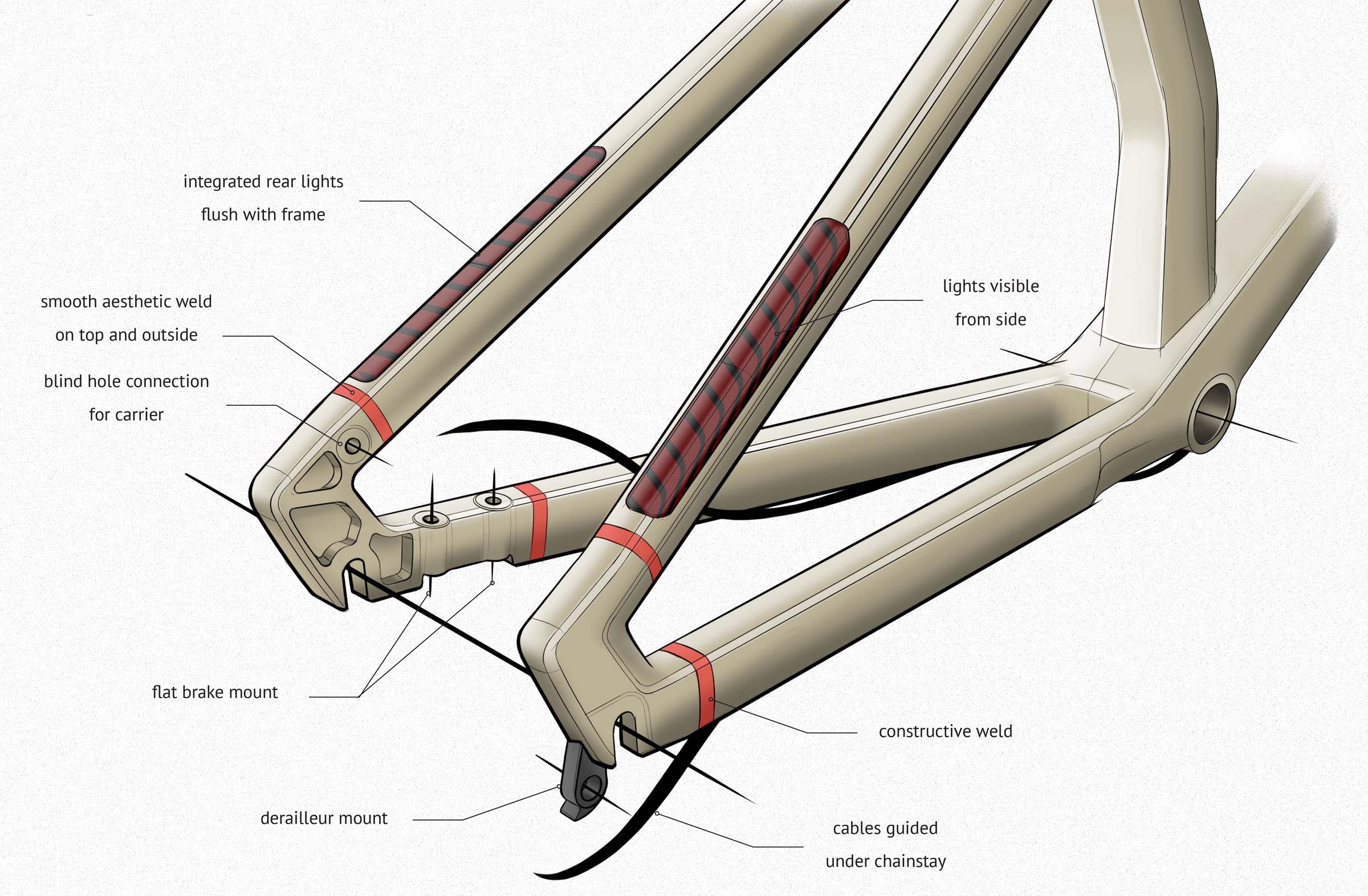 This new crossover ebike for the US market is using elegant, yet aggressive forms in the frame to communicate the sporty and adventurous character.
The bike is targeted at people above 50 years of age that like to use the bike as a leisure bike, going out into nature and taking a gravel path now and then.
Big tires and a slightly sporty geometry give the bike some offroad genes, while the rear hub motor and nicely integrated battery give the bike the looks of a bio-bike.
Enjoy new freedom with this new electric wheelchair. The wheelchair rides up to 6 km/h and can be folded into a small package that can be placed in a car.
The seat is adjustable and fold-up armrests make it easier to get into the seat. The brushless and maintenance free motor is powerful and quiet.
Our design studio developed this wheelchair from the bottom up, although we took into account all experience that our client had with the older generation wheelchairs.
Starting from strategy, concept design and folding kinematics, we continued with the full 3D CAD development up to a production ready level and intermediate scale models to test functionality.
The new Comin' is light and foldable, making it the perfect companion on short trips. The patented s-curved steering column makes sure that the scooter is large enough to ride, but can be folded compactly.
It has been equipped with a powerful foot-operated brake, offering great braking performance during wet weather conditions.
Several exciting mobility design, mountain bike and e-mountainbike projects for well known clients are in development, which we are not able to show at this point.
wheelchair, mobility scooters
At this moment there are several wheelchair projects under development, which we are not able to show yet, like offroad wheelchairs for kids, electric wheelchairs and foldable electric mobility scooters.
Are you planning to develop a new product? We are happy to find out together with you if we could be the right partner for your project.
If you submit your details we will get back to you within one business day.