design of new mobility products
We develop and design new mobility products, like electric wheelchairs, innovative bikes, mobility scooters and everything with wheels. We are happy to help with our highly specialized knowledge.
In our team we have a saying that every product with wheels is great to design. Therefore we love working on the design of new mobility products. Whether a new bike, a scooter or a small vehicle. And if we can help people to feel more free, like with a better wheelchair or mobility scooter, then we feel really happy.
strategy
We start off with research into the use of the product on location, observations of users, technological limits, innovation opportunities, company identity and many other factors that are important for a successful design project.
When it comes to mobility of elderly, like in the case of mobility scooters or wheelchairs, ergonomics is playing an important role in our research and testing.
We develop detailed idea's about geometry, kinematics, drivetrain, components and sizing strategy.
The research leads to a 60 – 80 pages strategy document with a clear innovation focus, potential risks and visual identity of the new product. This document serves as a strategic guide throughout the total project.
kinematics
Kinematics and folding is an important aspect of the development of wheelchairs and mobility scooters to make sure they fit in the booth of a car or in the plane.
We use powerful CAD software, simulations and mockups to test the folding principles of the new product and check the dimensions in folded position.
concept development
Through rapid cycles of sketching our senior designers investigate many potential design idea's and test this with early mockups.
We identify and choose the best concept design directions from all the possible ideas and always make choices based on testing, experience and strategy.
During the concept design phase, we hold a 'look-in-the-kitchen' session with your team. We present directions in sketch-form, functional and technical solutions, manufacturability solutions and mockups.
Together with your team we discuss focus, risk, level of ambition and push the design direction further into a concept that will be developed further.
The first important milestone of the engineering is to bring the concept to a first fully functional prototype. This first prototype we call the P1.
In the next step we start using powerful 3D CAD software to develop the product. We design all parts and select materials, production methods, treatments, possible coatings and colors.
3D CAD simulations and tests with prototypes are used to achieve maximum performance at minimum weight.
In addition to a set of 3D CAD files, a bill of materials and a first brief 2D package of drawings are made during the transition to production of the first P1 prototype.
prototyping
Both during the concept and engineering phases we build prototypes. Early prototypes are mostly 3D printed mockups. We use them mainly for testing shapes, ergonomics and engineering solutions.
At the end of the engineering stage we build the first P1 full functional prototype. These prototypes are high quality, often CNC milled, coated, with graphics and fully functional.
The fully assembled P1 prototype is now ready for testing, both on functional, ergonomic and performance aspects. We document all the learnings and develop improvements in stability, cost, weight and performance. Mostly this leads to an updated prototype P2.
After one or sometimes more cycles of improvements the product is ready for manufacturing on a larger scale.
The new Comin' is light and foldable, making it the perfect companion on short trips. The patented s-curved steering column makes sure that the scooter is large enough to ride, and still it folds compactly.
The scooter has a powerful foot-operated brake, offering great braking performance during wet weather conditions.
Enjoy new freedom with this electric wheelchair. The wheelchair rides up to 6 km/h and can be folded into a small package that can be placed in a car.
The seat is adjustable and fold-up armrests make it easier to get into the seat. The brushless and maintenance free motor is powerful and quiet.
Our design studio developed this wheelchair from the bottom up, although we took into account all experience that our client had with the older generation wheelchairs.
Starting from strategy, concept design and folding kinematics, we continued with the full 3D CAD development up to a production ready level and intermediate scale models to test functionality.
forcome e-bike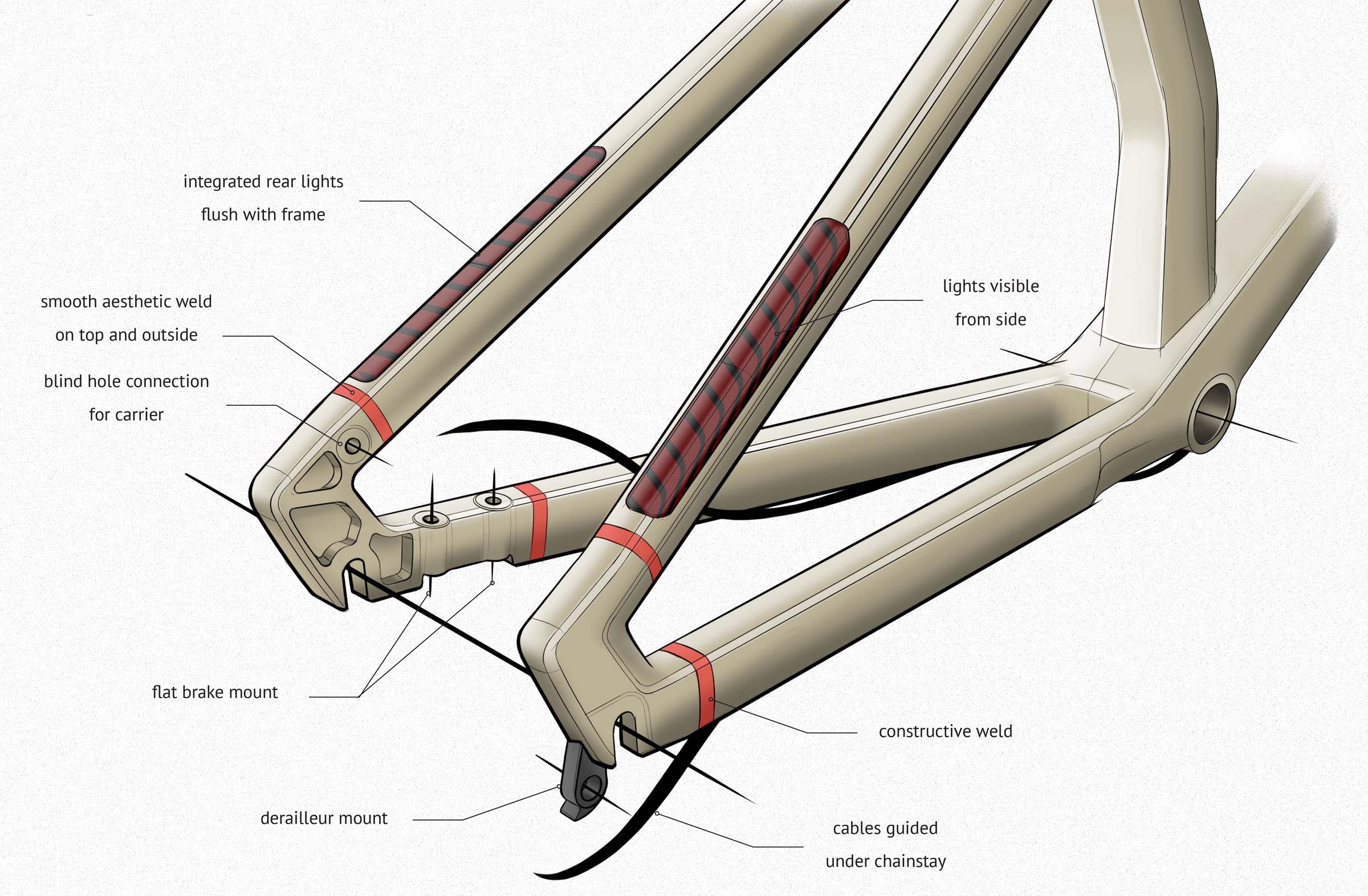 This new crossover ebike for the US market is using elegant, yet aggressive forms in the frame. This communicates the sporty and adventurous character.
We target the bike at people above 50 years of age that like to use the bike as a leisure bike. They like going out into nature and take a gravel path now and then.
Big tires and a slightly sporty geometry give the bike some offroad genes. The rear hub motor and the nicely integrated battery give the bike the looks of a man powered bike.
fold x
Light, foldable and good looking. The new mobility scooter offers a great degree of freedom, rides up 6 km/h and the scooter folds into a small package that can be placed in a car or the plane.
The four wheel setup gives the mobility scooter great stability, while the compact dimensions make sure that people can easily maneuver.
We designed this foldable mobility scooter from the bottom up.
Starting from strategy, concept design and folding kinematics, we continued with the full 3D CAD development, multiple prototypes, integration of electronics and drivetrain, early software and production support.
Fill out the form and get our Designguide in your email box. It will help you to prepare and run a product design project successfully.