design of sports products
We love design and developing sports products. Products that are used by professional teams, athletes, sports amateurs and children.
When we have time, we are out running, mountain biking, kite surfing, windsurfing or playing ball sports. Being outdoor, playing in teams, playing with our kids. That motivates us to design great new sports products.
strategy
We conduct research and use powerful bicycle design tools to build a design strategy.
Apart from research into what the competition is doing, we dive into potential new opportunities, company identity and create the future look and feel of the bicycles.
We also develop detailed idea's and direction on geometry, kinematics, drivetrain components, assembly components and sizing strategy.
Ultimately this results in multiple visual documents that form the strategic development direction for the new bicycle or ebike.
concept development
Through rapid cycles of sketching our senior designers investigate many potential rough bike design idea's and test this with early mockups.
We identify and choose the best concept design directions from all the possible ideas and always make choices based on testing, experience and strategy.
During the concept design phase, we hold a 'look-in-the-kitchen' session with your team. We present directions in sketch-form, functional and technical solutions, manufacturability solutions and mockups.
Together with your team we discuss focus, risk, level of ambition and push the design direction further into a concept that will be developed further.
The first important milestone of the bike development is to bring the concept to a first fully functional prototype. We call this first prototype the P1.
We use powerful 3D CAD software to develop the bike. We design all frame parts, pivots, bearings, rockers and integrate standard components. We select materials, production methods, treatments, possible coatings and colors.
3D CAD simulations and tests with prototypes are used to achieve maximum performance at minimum weight.
In addition to a set of 3D CAD files, the bill of materials and 2D drawings are made during the transition to production.
prototyping
During the development phase we build prototypes. Early prototypes are 3D printed and mainly for testing final shapes and engineering solutions.
Full size bicycle prototypes are the last step before manufacturing. They are very high quality, often CNC manufactured, coated, with graphics and fully functional.
Raqball is a collective racket sports. A new sport, with elements from different sports.
Like in other team sports played with a ball, players dribble, pass, cooperate and shoot at the target. A team achieves victory by scoring the highest number of points from shots on the target.
A sport requiring not only dexterity, strategy, and precision, but also intensity, it suits both families and committed competitors.
We designed and developed both the target, the high-end carbon rackets, a large bag to carry one target and the team vests. And we ran the process of bringing the total set of products to manufacturing.
dws z1 inline skate wheels
Maplez DWS Z1 is a sleek, streamlined, high-performance and eco-friendly wheel system that weighs less than 155 grams, yet it's highly durable due to its unique alloy rim.
The wheel has unparalleled strength and speed. Additionally, it requires less material and time to replace. The elimination of a non-recyclable plastic core makes the process of changing wheels better for the environment and it's revolutionizing the skating industry.
"The interchangeable rim/rubber concept is a perfect example of ecological sport product design. It's also a great example for how to implement proven principles into the action sports industries. In addition, the user will carry less weight and spend less on the exchange of wheels."
Jaka Benedik
The Easyball is an innovative football you can easily take with you; it consists of 6 identical plastic parts that are assembled together like a puzzle. It is very compact, flat-packed and there is no more risk of punctures!
The footballs are made from 89% recycled plastic; the other 11% of plastic is new, forming the outerlayer.
It is now possible to train and play every moment of the day, allowing you to reach your goals faster. Become as good as your hero, whether it is Ronaldo, Messi, Neymar or de Jong.
The Instinctiv M is a range of high-end mountain bikes. The M is a master of rough terrain with its athletic design and extremely smooth suspension. You ride with maximum confidence at any speed.
The bikes are equipped with high-end German made Pinion gearbox drivetrains.
The M comes in five different models, from the Reebok M for fast trail riding with 130mm rear suspension up to the Kodiak M with coil and 150 mm rear travel, ready for enduro race tape.
All models share their enduro genes, long and slack athletic design and our patented puma multilink suspension.
Dynamic Aero Helmet H1 Carbon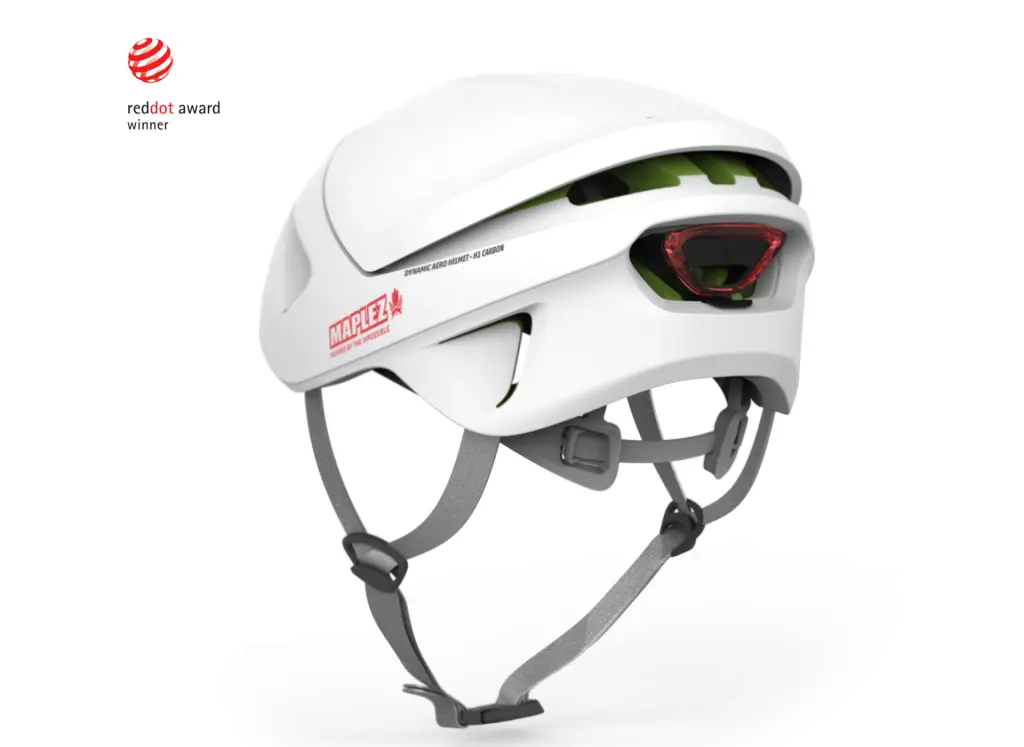 Unique on-demand aerodynamic helmet, intended for inline skating and cycling. The helmet features a strong light-weight structure that enables the althlete to switch from ventilation mode to aerodynamic mode during the ride, offering a 3% drag reduction.
The helmet weigh less then 260 grams (medium size) and offers a detachable safety rear light.
Naturally the helmet complies with both the EN 1078:2012 norm and the US CPSC norm.
Azorean Football is a new sport, played on grass fields. The sport is a mix of football, rugby and American football, with a new set of rules. The ball is thrown by hand or kicked in different trajectories.
The ball has a unique aerodynamic shape, allowing players to play the ball with different types of trajectories, depending on the direction of the opening during the flight.
Are you planning to develop a new product? We are happy to find out together with you if we could be the right partner for your project.
If you submit your details we will get back to you within one business day.