design of bicycles and ebikes
We specialize in development of new e-bikes, cargo bikes, mountain bikes and industry related products like hydraulic brakes and helmets. We are happy to support you from idea till production.
First of all, we are riders and cyclists ourselves. But we also develop high-end mountain bikes in house and run assembly. So we know the market very well and understand what you are talking about.
As a team we are riding exciting technical trails in the Alps and Croatia, but also daily through the Amsterdam traffic on city bikes and cargo e-bikes.
strategy
We conduct research and use powerful bicycle design tools to build a design strategy.
Apart from research into what the competition is doing, we dive into potential new opportunities, company identity and create the future look and feel of the bicycles.
We also develop detailed idea's and direction on geometry, kinematics, drivetrain components, assembly components and sizing strategy.
Ultimately this results in multiple visual documents that form the strategic development direction for the new bicycle or ebike.
kinematics and geometry
We use bike design and simulation software to develop solutions for bike suspension, kinematics and geometry.
Not only simulations are used, also riding many bikes, testing with mules and making small iterations helps us to design a geometry and kinematics that fits the bike we are developing.
concept development
Through rapid cycles of sketching our senior designers investigate many potential rough bike design idea's and test this with early mockups.
We identify and choose the best bike design direction from all the possible ideas and make choices based on testing, experience and strategy.
During the concept design phase, we have a 'look-in-the-kitchen' session with your team. We present directions in sketch-form, functional and technical solutions, manufacturability solutions and mockups.
Together with your team we discuss focus, risk, level of ambition and push the design direction further into a concept that will be developed further.
The first important milestone of the bike development is to bring the concept to a first fully functional prototype. We call this first prototype the P1.
We use powerful 3D CAD software to develop the bike. We design all frame parts, pivots, bearings, rockers and integrate standard components. We select materials, production methods, treatments, possible coatings and colors.
3D CAD simulations and tests with prototypes are used to achieve maximum performance at minimum weight.
In addition to a set of 3D CAD files, the bill of materials and 2D drawings are made during the transition to production.
prototyping
During the development phase we build prototypes. Early prototypes are 3D printed and mainly for testing final shapes and engineering solutions.
Full size bicycle prototypes are the last step before manufacturing. They are very high quality, often CNC manufactured, coated, with graphics and fully functional.
Instinctiv M
The Instinctiv M is a range of high-end mountain bikes. The M is a master of rough terrain with its athletic design and extremely smooth suspension. You ride with maximum confidence at any speed.
The bikes are equipped with high-end German made Pinion gearbox drivetrains.
The M comes in five different models, from the Reebok M for fast trail riding with 130mm rear suspension up to the Kodiak M with coil and 150 mm rear travel, ready for enduro race tape.
All models share their enduro genes, long and slack athletic design and our patented puma multilink suspension.
forcome e-bike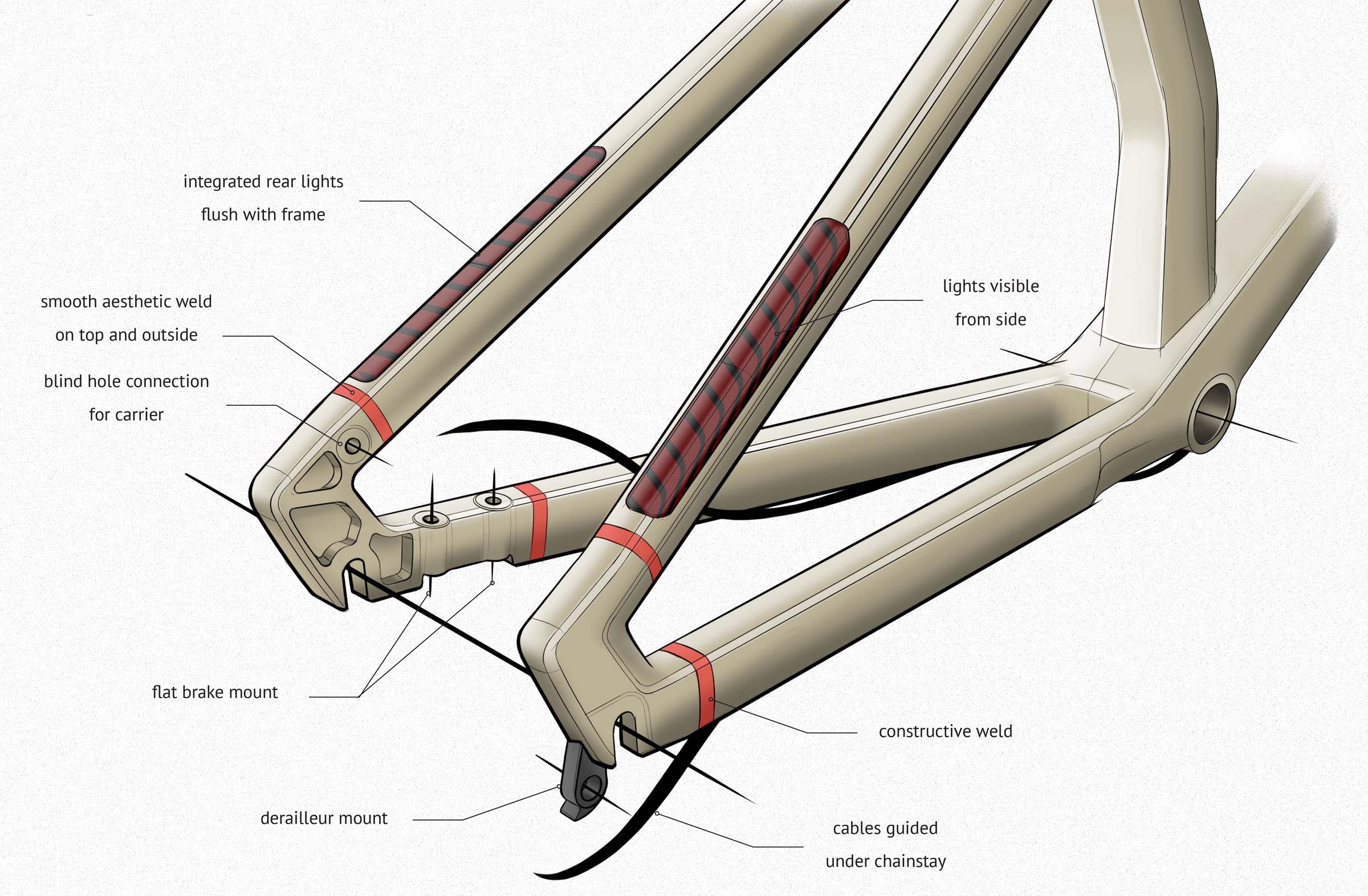 This new crossover ebike for the US market is using elegant, yet aggressive forms in the frame to communicate the sporty and adventurous character.
The bike is targeted at people above 50 years of age that like to use the bike as a leisure bike, going out into nature and taking a gravel path now and then.
Big tires and a slightly sporty geometry give the bike some offroad genes, while the rear hub motor and nicely integrated battery give the bike the looks of a bio-bike.
e-mtb
Development of a high-end electric mountain bike, with top notch components and newly designed rear suspension system.
Market introduction is expected for 2024 after which we can share more images and information.
mtb brakes
Development of a set of high-end mountain bike hydraulic brakes. The set includes both a completely new developed lever and 4-piston caliper.
Market introduction is expected for 2024 after which we can share more images and information.
Are you planning to develop a new product? We are happy to find out together with you if we could be the right partner for your project.
If you submit your details we will get back to you within one business day.